| | |
| --- | --- |
| ABOUT US | |


My FAMILY TREE


GRANDPARENTS

RUSTY SANTOS

FE SANTOS















GRANDPARENTS

FEM JAVIER

ROSE JAVIER




My MOM
is DOC
Sometimes I called her Doc. My Mom is the best . She gave me all her attention and love. She loved me very much and she always told me this. We were the best buddies. She spoiled me a lot and she gave me anything I want. At times when she was busy with her work, I would sneak in to sit on her lap and get a hug and a kiss from her. She taught me a lot esp. with my reading, spelling, and homework. I always got good grades in spelling because she coached me well. She was very particular with my hygiene and ironed my clothes everyday. She prepared my lunch kit every morning. I loved when we shop together. I always got a cute toy every time we went out. She drew for me and played the piano. Our favorite piano piece was Heart and Soul. She just taught me to play "Oh When The Saint Came Marching In" recently because I liked it when I heard her play. We had a lot in common with each other. We collected Beanie Babies. I loved picking flowers for her. I clung to her most of the time, especially if I had no one to play with. I slept with my Mama and I always asked her to hug me. She called me, "Big Girl." She never missed to hug and kiss me everyday. .

"I love you Mama" I told her everyday and still I will.





My DAD is

ROMIE




He works in Maryland since last year. My Dad spoiled me a lot. I also called Him my "Dad - Dad." I was his baby Girl. He loves me very much. I loved it when he carried me in the mall when I got tired. I played the piano to Him while in the phone. We always took turn to hang up the phone. He bought me a lot of clothes, wristwatch, and earrings. The last time I talked to my Dad, I told him..

"I love you, Dad, forever."







My Brother is
PHYL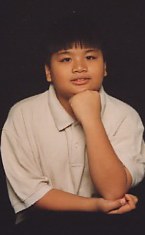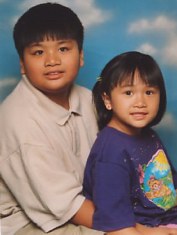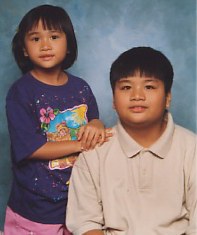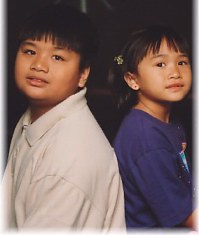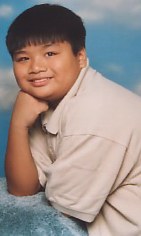 He got a very long name.....

Phylmikhel Javesann.

He is almost 5 yrs older than I am.

I played with him with his wrestling figures in his wrestling ring and I liked the Rock. We played Video Game together. We fought over the TV Channels, but we usually took turns. He taught me with my Piano lessons, losing his temper at times. He plays the flute too. He wanted to be a football player and I wanted to be a cheerleader so I could cheer for him. His room was messy and Mom won't let his friends come until he cleaned up.. We were at the stage of trying to be the first and better than the other...driving our Mom crazy. "I win"... "Im first"..."Are you happy now?"... "Me sit front"... were the things we said to each other when we were on one of those moods. We wrestled at times and I always ended-up crying and ran to my Mama. He loved to teased me and my Mom would always rescue me. I liked to listen to some of his music (usually rap). We rode our scooters while waiting to go to school and we took turns to kick the mushroom in the yard. He called me "spoiled brat "because my Mom spoiled me a lot," Baby" (so my Mom called me Big Girl), and "Slow Poke"( I always made him late in the mornings). He walked me to my CCE room every Sunday. We liked Kolache and we always bought this on Sundays after my CCE class. I loved his Strawberry Milkshake. He loved Apple Cider. He is very good in Video games, beating most of his games. He collects Pokemon Cards and Gundam models. I am a scary- cat so my Mom always called him to go with me to the room or bathroom. At times, my Mom asked him to get me something to drink or eat. He is a big boy. He was a black-belter in Tae-Kwan Do. He cuddled me a lot and at times I rode in his Back when we were shopping. We were always the best of friends and playmates. I love my Brother and I was always proud of Him and I will miss him very much.

I LOVE MY BIG BROTHER VERY MUCH ...






UNCLES AND AUNTS AND FIRST COUSINS

Uncle Rusty

and

Auntie Susan

Scott

Brian

Mark

Uncle George

and

Aunt Marivale

Kenny

Cameron

Uncle Rey

and

Auntie Jenifer

Jenika Jenine

Uncle Robert

Uncle Vic

and Auntie Bella

Ray Al

Ace

Edirose

| | |
| --- | --- |
| All my Uncles/Aunts//cousins are in Maryland except for my Uncle Rey'sfamily who resides in Virginia. I did not have the chance of meeting my Uncle Vic and his Family because they are in the Phils. I was the only Santos' Girl. I was the baby of everybody. They all showed their love to me.Auntie Jeng and Uncle Rey took care of me when they were here in TX...she was like a second Mom to me and she treated me like her own Baby. And they had to moved to Virginia and I missed them a lot. Auntie Ebel got me my earrings for my last B-day. Uncle Robert was always a very nice to me. Uncle Robert stayed with us until we moved here in Texas. He brought me to McDonald last Summer so I can get some of the McDonald Beanies. I will miss all the Boys, Jenine, and Jenika. | |

I WAS THE FIRST TO JOIN

THE LORD

ANDI WILL BE

THE FIRST TO WELCOME

THEM IN HEAVEN.




BEDTIME PRAYER

MY MOM MADE AND TAUGHT ME




Jesus, Thank you for this nice day. Thank you for keeping us safe, healthy, happy, and together as a family.

Continue to bless, love, and guide us, Amen.




REMEMBERING FAY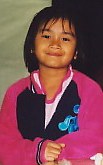 Fay was a very precious child. She was very much loved by us. She was babied so much even she has grown to a big girl. Although she hated to be called a "Baby" due to the teasing of her brother, she loved to be treated as one. She loved to be loved. She loved to be cuddled, hug, and kissed. If I was busy, she would come to me and seek the attention. Her most favorite thing to do was to sit on my lap while I was doing my paper works. She usually would ask to hug her when she slept with me. Thank God we have a King Bed because she would be all over the bed. Sometimes, out of no where, she would just tell me "I love you Mommy." She never missed a day not to tell me that she loved me. She loved to hear me say to her " I love you very very very much and I will love you forever and no matter what." I loved to see those glowing eyes when I told her this. She taught me how to loved so much and to cherish this love. And I know that she knew I loved and cherished her so much.




Fay was a shy girl...but as she grew, she bloomed to such a jolly and sweet child. She loved to smile. She had this certain shy smile that I will never forget ...those expressive eyes, and that special expression that only she can do. I still remember how she was so happy to see me coming to her Valentine's party and how she looked and smiled at me.




Fay knew her responsibilities. She knew she needed to do her homework right after she came from school. If she wanted to play for a while, she would ask first if it was okay to do her homework later. She always followed what her teacher told her and no matter how I tried to convince her of something else, I usually failed because her Teacher ruled. She loved to order books from her school. She was very good in reading and was getting even better. Every night, she read a book to me. She did her homework by herself and we corrected it together. She studied for her spelling test 1 - 2 days ahead and the night before, I would give her a test and we would not stop until she got them all right. When she came home the next day, she would proudly show me her grade. Her writing was not well developed yet but she was getting there. She was always proud of her grades. She aimed for a hundred or A's. She loved her 102 Dalmatian Backpack and shoes. She was a good listener...she was model student. She was loved by her friends and schoolmates.




Every morning , she was usually the last to wake up and I have to help her out of the bed and carry her to the bathroom. Her brother called her "slow Poky. " She showered by herself and blew dry her hair. She hated it when I brushed her tangled hair ...so she used a hair conditioner. She would only used her favorite hair brush.




Every 10 o clock on school nights she knew she had to get ready for bed and she knew her routine. If I was doing my charts, she slept in the couch to be near me and she always asked me to bring her to bed with me. She was a "scary cat"...we teased her. She was scared of the dark. She was scared too to go to rooms alone so she would bring her favorite cat with her. She loved her cat. She played and pet Muffin as soon as she got home.






She loved to sit behind me in the van and asked me to hold her hand. Sometimes I would let her sit in my lap while we drove around the subdivision. On long rides, she would be contented listening to her CD player and she would sing along. I loved listening to my Baby's singing. Her brother and her always argued who was going to sit in front and they usually took turns or they sat together. But she would agree to sit at the back seat if we were going to a main highway. We would drive around town to see the cats in the neighborhood. She loved riding her bike and scooter. She liked to pick flowers for me. She would ride with me in the ridng mower and I allowed her to handle the steering.




She loved to shop. She would explore the whole Toys r us or the toy section of Walmart. Although she would ask for something all the time, she did not ask for much. She would ask first if it was expensive.... and she would not insist if it was , unless of course, it was her favorite toy/movie/video. She knew too that one new toy was enough for the day. She loved to buy books, coloring posters, and any cute things related to cats or dogs. She loved to collect folder/binders with pictures of cats or dogs. She had quiet a few of them. She checked the movie section for new releases esp of Blue's Clues. She also check on CD's and puter games. We collected Beanie Babies, but she would limit herself to the cute ones.




We usually went Grocery on weekends, mainly to buy her food for her lunch kit. I tried to convince her several times to get food from the school cafeteria but she usually preferred to bring her own so she can sit by her teacher during lunchtime. At times she would check the School Menu and if she liked the food, she would agree of no lunch kit for the day. She loved Ham Sandwich, a can of Mountain Dew, and a chocolate bar or chocolate Pudding for dessert.




I will miss her baby voice, the silly laugh, and the cute smile. I hated it when she cried. I will miss how she and her brother made me crazy over their silly fights. " Mommy, I am hungry" and "Mommy I am thirsty" things she frequently told me. She loved to eat and was not choosy with food. She knew how to fix herself a snack but she usually asked first. She was so happy when she learned to do the popcorn in the microwave. When she got back from school, the first thing she would look for was food. On weekends, if she woke up ahead of me, she did not bother me. She would patiently wait and would periodically check me out... if I moved, then she would ask, "Mommy, are you awake?"




She was growing too fast I would say. She was becoming more independent and had her own choices and favorites. She would choose what clothes to wear, what food to bring in school, etc. When we go grocery, she would get her own food. But she would not argue with me if I told her no and explained to her why not. She did her personal hygiene, wore her socks by herself, tied her shoelaces. She would tell me if she was going to poo so I can clean her up when she called me, "Mommy, I am done." She knew how to fold her clothes and sorted them out. She was my big helper.




She loved to ask me to draw for her...from cats to dogs.. and Mickey Mouse. She loved to draw. She would surprise me with a drawing with a written "I love you Mommy." She loved to play the piano with me...especially the Heart and Soul piece. She loved to listen to me play her songs and she would ask me to teach . Her other favorite was "Oh when the Saint." I will miss my child who complemented me with " Mommy, Thank you...you are the best."




There is still a lot to tell about Fay.. but the rest of the site will tell you most, if not all, about my big girl.




Late last year, I brought her a Magnetic Picture frame with inscription of "My Perfect Angel." She saw the frame with her pic in the ice box and she gave me a sweet smile and hugged me... and I told her, "yes Baby, you are my Perfect Angel"... and indeed she was and she will always be.




I have loved my Child too much and I devoted my everything to her. She meant so much to me. She was enough to give me joy, to relieve me of my worries, to help me relax after work. I would admit that I spoiled my Baby so much... doing things for her, buying her stuff... and I did not care if some said I babied her so much. I treated her like my Princess and most of the time could not say No to my Big Girl. Yet, despite of how she could easily got my favor, Fay never abused this privilege. She respected her Mom a lot. She listened and obeyed me. When I got mad at her (rarely), she would say sorry to me and I would say sorry to her too ... and we both discussed why Mom got mad. Yes, I did spoil her... but, I tried to be firm so she knew her limitations. She was a well-mannered, and a well-behaved child... she listened, and she obeyed. Yes , I did spoil her, and I didn't regret it...and I am glad I did and I wish I could have given her more.




I missed my Fay so much. Nothing and no one can ever replace her. She was my one and only Fay and will always be my Baby. I am still going through grief. At times I wanted to give up... but the anticipation of seeing her again, remembering how my big girl would always tell me, " don't give up", and thinking of Phyl who now needed me most... are the sources of my strength to try to go on. Yes Fay is gone here on earth...and I missed her soo much in the physical and emotional sense. No longer I see, I touch, I cuddle, I hug, I kiss, I pat my baby....no longer I hear her voice.... no longer I smell my baby's scent.... no longer I hear her say I love you Mommy.....yes she is no longer here in flesh..... but, she is now in Heaven, forever in eternity. I wished Fay could have stayed longer with us... but she is an Angel and she deserved to be in Heaven ...and she is very happy, safe and secure in the arms of Jesus, well- taken cared by other Angels, and playing in the streets of Gold.... nothing can beat that.... and that I can not give.




I love Fay very much.... she was my precious and beautiful child.... she was my beloved daughter... Yes, Fay was my greatest child... the child that I am and will always be proud of... she was my Rose...she was my Heart...she was my Faymaree.







Faymaree is a special beautiful little girl.

Her smile will brighten your day.

Last summer was so special, she celebrated her 6th Birthday. My two boys had a nice time with her- Kenny and Cameron rode their bikes with Faymaree, exchange Pokemon Cards, and marbles. She looked so beautiful when she had her ears pierced for the very first time. I remembered the earrings were so beautiful. We went to the mall,and I enjoyed shopping for little girl's things. We bought bow ribbons, hair clips, toy necklaces, and rings. Faymaree wore these thing and I told her she looked like

a little Princess.

Kenny, Cameron , Uncle George and I

will miss you so much. You are one special child, and I know you are at peace with God. You are in Heaven and you are definitely a beautiful Angel. You gave life and joy to us and to a lot of people and that's how I will always remember you. We love you Faymaree. You will always be in our Hearts.





Fay, my sweet , little Angel ,

who gave me the happiness and strength to over come my loneliness during those times when I was separated from my 2 daughters. She was the one who filled the empty space in my heart.




I remember Fay being a very kind and loving Little Girl. A sweet girl who is easily loved by anyone. I remember those days whenever she needs her diaper changed, she will hand me the wives and a diaper and say "chi-chi" or "stinky." I can still remember dearly in mind how she says it.




If only I am given another chance to see you Fay, my baby, I just want to tell you that I love you so much and that I am sorry for not being with you all the time. I know I haven't called you, but deep in my heart, you're always here in my heart and you will always have a special place in my heart. If only I can turn back the clock.

Uncle Tong, Jenine, Jenika, and I will always pray for you my Angel. We're going to miss you dearly, I know you are in Heaven right now. Please look after us and always keep us safe. Look after your Mom, Dad, and especially your Brother Phyl.




Oh my Baby Fay, I love you so much and I am missing you so badly, but I know someday my baby, we will meet again and when we meet, I am sure we will never be separated again. I will always remember you my angel.





Dearest Faymaree,
When we lived all together in Maryland, how I came home one afternoon and you were there - a pretty, little infant crawling on the floor. You knew who I was and seemed to be curious of what I do so you followed me to my room crawling. I was tired and wanted to lay on my bed. Upon entering my room not knowing you were behind me, I tried to close the door not knowing your fingers were in between the door and the frame. I kept wondering why the door wouldn't close but all the that time your finger was caught - how you cried with pain!!! It was good that I did n't force it close because if I did, I know I 'd break your fingers. I felt so bad - so bad that it touched me inside. I realized how terrible it would be for you if I have broken your fingers. I then realized that if you're hurt, I'll be hurt too knowing you're in pain. So that very moment, you changed my life. You made me realize how I should be a more responsible Uncle to you and to all your cousins and brother. I knew if I'd hurt you- I'd never forgive myself for doing that to you ... I tried to be the best Uncle for you and I hope you've seen that in me. Though sometimes I did not show it, you were in my thoughts and in my heart more than you know. Fay, how I wished I've been an Uncle to you for a whole lifetime. I'd always be there for you whenever you would need me. Now that you are gone, I just want you to know that I'll never stop thinking of you. You'll always be in my heart and in my thoughts, all my life. I am not going to say Goodbye to you but just see you later my little sweetheart because I know we'll see each other again .... someday. I love you and I'll miss you. Rest in Peace my little angel.